Water Damage Johns Creek GA, Flood Damage Repair and Cleanup
• 24/7 live calls – always talk to a person
• On our way in 60 minutes or less
• We bill directly to insurance
• Free estimates
"We had major moisture and water issues in our home and we want to thank The Dry Warriors for coming out immediately, to assess the damage. You were very kind, courteous, and most of all dependable and trustworthy. Your coming by daily to check the equipment levels and always keeping my husband and I informed showed us how loyal you are to your job and your company. We felt that you treated our home as if it were your own, with excellence. Great job!!! I have highly recommended The Dry Warriors to neighbors, friends and co-workers. Super nice guys : )Thank You"

MR & MRS JONES
The Best in Water Damage Cleanup & Removal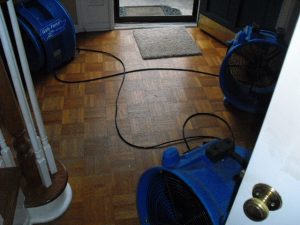 Of all the various kinds of damage your home can suffer, water damage is the worst. Water Damage Restoration is a daily problem that can cause serious property damage very quickly. It only takes a short period of time to spread and develop into "black mold", which is extremely hazardous and harmful to your health. If your home is damaged by water it is very important that you contact a water damage expert as soon as possible.
Water Removal from the experts at The Dry Warriors gives you peace of mind knowing that the property will be completely dried and mold will not develop in your home. We only use the most cutting-edge water removal equipment to remove water damage from your home. We can be on site in a matter of minutes to reduce the threat of a developing toxic mold problem. If your home has been threatened by flood or water damage from busted pipes or fire hoses it is critical that the standing water and moisture be removed. The favorite ingredient for toxic mold is moisture and a surface to grow on. Water extraction is always less expensive if completed right away rather than waiting. The sooner you start your water damage repair the less expensive it is.
Water damage can lead to mold, which in most cases, is very expensive to remove and often not covered by insurance (Check your Insurance Policy). After the standing water is removed, the challenge is to remove the moisture from walls, ceilings, hardwood floors, and water damaged carpet. The Dry Warriors offers 24/7 emergency professional water restoration services nationwide. Call today to restore your flooded property back to normal!
Water & Flood Damage Recovery
The amount of damage that flooding can cause in such a short period of time is pretty amazing. If flood damage is left untreated, the resulting damage can be so much worse. To avoid potential health problems, any flooded areas need to be addressed right away. The water needs to be extracted and completely dried out by a trained professional with the right equipment to detect and locate moisture hidden from view. From water removal and extraction to complete restoration, The Dry Warriors can handle anything from leaky or broken pipes, sink overflow, toilet overflow, refrigerator, washing machine, water heater malfunction, and dishwasher malfunction to the worst of the worst in flooding disasters. Our flood damage Johns Creek technicians are equipped to handle any problem of any size 24 hours, day or night.
Basement Water Damage Due to Broken, Frozen, and Burst Pipes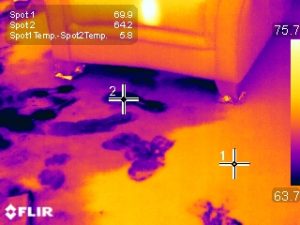 When temperatures drop well below freezing, pipes will often freeze and expand until they burst. A broken or frozen pipe burst in a basement can often go unnoticed. Frozen, broken, and burst pipes are more susceptible to happen in basements due to the pressure and temperature difference within the basement. Basements tend to flood first during any kind of water damage emergency because they are the lowest point of a home and basement flooding can occur from sources inside and outside the home. Excessive rain can over saturate the ground, resulting in leaks and even cracks throughout the basement. Also, homes that are left vacant with no regulating of heat or poorly insulated walls can be a common culprit of frozen water pipes and frozen water lines in the winter time.
The first 48 hours are considered the most important time period to react, as it is critical to prevent further damage to the flooded basement and the items within. It's important to have a professional who understands how to perform complete basement water cleanup and drying come and take care of the basement water damage as soon as possible before more damage occurs. We will detect the water in your basement quickly and handle the water removal completely. If you have Johns Creek basement water damage or are currently experiencing a flooded basement, call us as soon as possible.
24/7 Certified Water Damage Restoration
We are a certified Johns Creek water damage company that helps all residential and commercial water damage victims. No matter the water damage emergency, whether you have a small leak or a catastrophe, we will be on our way to handle any and all water and flood damage repairs. If you need water damage cleanup at your home or business, call us today at 770-379-0101.
More About Johns Creek GA
In the 1820s, the discovery of gold in the foothills of northeast Georgia within the Cherokee Nation – approximately 45 miles north of today's Johns Creek – led to America's first Gold Rush, the eventual takeover of the Cherokee Nation by the U.S. government in 1830, and the subsequent forced exile (the Trail of Tears) of Cherokee Indians to other areas of the American West.
Points of interest that we provide service near include the Johns Creek Town Center.
We provide services throughout Johns Creek GA, including 30005, 30022, 30024, 30076, 30097.